Searchers find body of former Maryville Dr. killed in diving accident | News
Title (Max 100 Characters)
Searchers find body of former Maryville Dr. killed in diving accident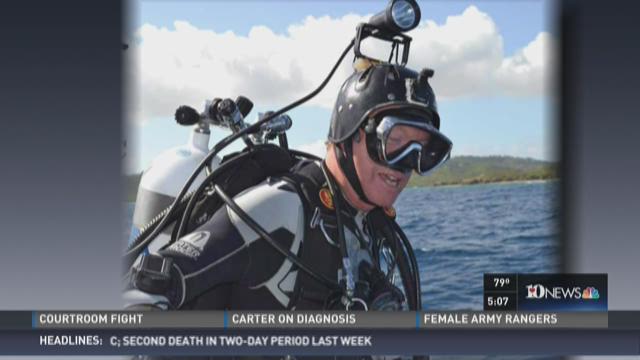 Update: The Virgin Island Police Department confirmed to 10News that Dr. Guy Garman's body was recovered late Tuesday. 
Original story: 8/19/2015
(WBIR) A former Maryville doctor is missing and presumed dead after attempting to set a world record for scuba diving.
Dr. Guy Garman owned an ear, nose, and throat practice from 1997-2009 in East Tennessee before relocating to St. Croix in the U.S. Virgin Islands in 2010, according to his website.
Garman was one of only 12 people in the world to dive more than 800 feet underwater, according to his friend, Capt. Ed Buckley of St. Croix Ultimate Bluewater Adventures. On Saturday August 15, he was attempting to go even further to break the world record for deepest dive. He never resurfaced.
According to Buckley, Garman was trying to reach a depth of 1,200 feet. The current world record depth is 1,090 feet.
Buckley was part of Garman's support team of divers and boaters, and said Garman had planned "for years" to make the record attempt.  Garman trained at Buckley's business for 5 years and quickly advanced to technical deep water diving.
"He was very passionate, very meticulous about it. He did a lot of research," Buckley said.
Garman went down to 200 feet with support divers, including his son, and continued his descent. He never made it on the return to the team waiting for him at 300 feet. Authorities have not found his body.
"He went out doing something he truly loved and there is something to be said for that," said Buckley, "He was an extraordinary individual as a person, as a doctor, as a diver.  I just can't think of anything negative I could ever say about him."
Garman was a Doctor of Osteopathy with extensive experience in Otolaryngology particularly in ear, nose and throat care as well as head, neck, and facial plastic surgery.