Victim of fake Luke Bryan tickets now warning others | News
(WBIR) Fake Luke Bryan tickets for Friday's concert at Maple Lane Farms are making the rounds across East Tennessee, leaving some victims out hundreds of dollars and no ticket to the sold-out event.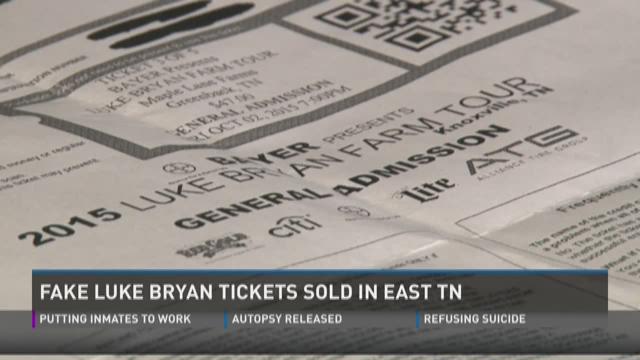 Samantha Peters said she turned to Craigslist last Wednesday for tickets when she heard the concert was sold out. She found three tickets for herself, her fiancee, and her mom that would cost a total of $180.
"I was excited, beyond excited because we had looked and realized they were sold out," Peters said.
RELATED: 
Fake Luke Bryan tickets leads to arrest
Peters then said met up with a woman named Erin Gregory, who had posted the Craigslist ad for the tickets online. As soon as she started driving home, Peters said she had a gut feeling something was fishy.
"Something told me to look at them," she said. "I looked at them, realized that they were the same. The bottom bar code was the same."
The next morning, Peters called Xorbia, the ticket distributing company, who confirmed that the same bar code number could not be scanned twice at the concert.
Peters then took to her Facebook page, asking friends if they knew Gregory, because Peters said Gregory would not return her phone calls or messages.
"I thought, hey, they're wrong," she said. "She made a mistake, accidentally printed the wrong one twice, but then I got a gut feeling, no responses, no answers that I was right."
Peters, as well as two other victims that bought fake tickets, filed reports with the Blount County Sheriff's Office.
On Tuesday, deputies arrested Erin Haley Gregory, 29, of Oak Ridge on three charges of criminal simulation in connection with selling the fake Luke Bryan tickets.
"Be careful and watch who you purchase from, how you purchase, and everything else," Peters said.
Bryan's Farm Tour is scheduled to stop in Greenback at Maple Lane Farms on Friday.